Salmon LCHF stir-fry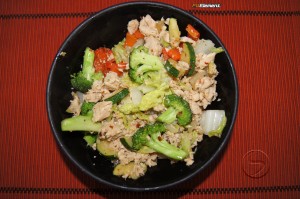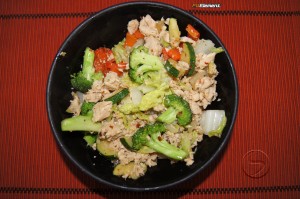 Here is one of my go-to recipes whenever I'm in a hurry and don't really have time to cook too much or just plain lazy. It's very low in carbs but high in protein and fat. However, this is a recipe that you can mix and match depending on what you have available. I used the following:
1 can wild caught salmon                                                                            
1 handful broccoli florets
1 small handful of diced squash
1 big handful of chopped kale or bok choy
1 handful chopped red bell pepper
½ of a small onion chopped finely
1 spoon coconut oil
Spices of choice (I used Trader Joe's 21 seasonings salute)
In a sauce pan melt the coconut oil and sauté the vegetables. Add spices and mix. When ready add the salmon and mix well. The salmon doesn't need a lot of time in the pan as it's already cooked and you just want to warm it up slightly.