Heat yourself from the inside – Thai coconut curry soup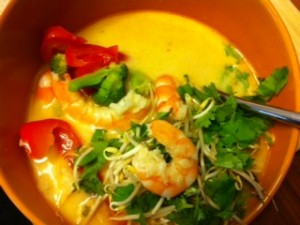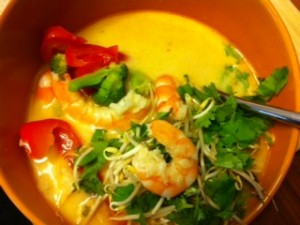 It has started to snow here in Austria. It's the first snow of the year to stay on the ground. Obviously that means that winter is about to start and it will only get colder in the time to come. So what is better to eat than a rich and healthy soup that heats you up from the inside?
You will need the following:
1 can coconut milk (full fat)
2 cups chicken broth
3 tablespoons fish sauce
2-3 teaspoons red curry paste (I chose to use the very hot one)
Salt and pepper to taste
Red bell pepper
Broccoli
Bean sprouts
Cilantro
Shrimps (I used tiger shrimp but you can also use chicken)
How to:
In a pot heat up chicken broth, coconut milk, fish sauce and curry paste. Mix well and when boiling turn down heat and let it simmer for 5 min. Add the amount of vegetables you wish to use and let them cook in the soup for 5 -10 min until soft. I used about one handful of each vegetable. Add salt and pepper to taste. As I used pre-cooked tiger shrimp for this dish I would only need to heat them up not cook them by putting them in the soup for a few minutes. Serve with fresh cilantro on top.
As they say in Thai: ขอให้เจริญอาหาร! – kŏr hâi jà-rern aa-hăan! (Enjoy!) [upzslider]