Category Archives:
Recipes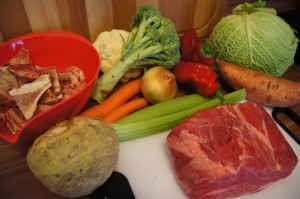 As sniffles and winter blues are at its highest before spring comes soon, I decided to make a fantastic soup from scratch that offers a hearty healthy solution to these challenges. This is a great soup to make on a Sunday when you have some more time. It's the making of the broth that takes time as it has to cook for about 2.5-3 hours and then an additional 20-30 min for the vegetables.
You will need:
*use organic vegetables and organic/grass-fed meats/bones to ensure the best quality of nutrients
1kg of fattier type meat (usually a harder type meat)
5-8 bones with marrow
Vegetables of your choice ( I used what I had available such as broccoli, celery root, bell pepper,celery, carrots, sweet potato, cauliflower, onion etc)
Water
1tbs marjoram
1tbs rosemary
4 juniper leafs
Use a large pot and put the bones in it. I had some extra small ones and put them in here as well. Bone and marrow have been an important source of food since the beginning of dawn. It contains fat of course, but also nourishing minerals ( calcium, magnesium, and potassium) as well as gelatin (aids digestion and also act as a protein sparer allowing the body to fully utilize the proteins taken in) and collagen among other things.
Cut your piece of meat into bite sized bits. As you can see the piece of meat I'm using has quite a bit of fat in it which gives great flavor as well as satiety. Over the years there has been quite a debate of whether or not to eat saturated animal fats, here is an article I think will make this topic rest in peace.
Add the bite sized bits of meat to the pot with bones, and add as much water as needed to cover the meats and bones. I used about 1.5 liters for this one.
Add the marjoram, rosemary and juniper leafs to the pot and cover. Bring the pot to boil and then reduce heat to simmer. Let the broth simmer for 2.5-3 hours before removing juniper leafs and bones.
While the broth is being made, I pre-cut my vegetables of choice into bite seized bits and make them ready to go. It gives me a feeling being done cooking as I can clean up the kitchen and move on to other things while waiting for adding them as the final step of the soup. Vegetables offers so many health benefits and this soup will cover many of them as you will use a wide variety.
Final step of the soup is to remove the bones and juniper leafs, and add the vegetables to cook. Cover the pot and bring to boil and reduce heat to simmer. Depending on your vegetables it can take anything from 15- 30 minutes for them to be fully cooked. When your vegetables are soft the soup is ready to eat.
Enjoy!